With most Korean idols sticking strictly to conventional gender roles and beauty standards, Amber has always stood out as a unique presence.
But after being insulted in the face by haters, the 22-year-old from the multi-national K-pop girl group f(x) cannot but take to Instagram to vent her dismay. The carefully crafted message that goes with a black image has earned her tens of thousands of likes within hours.
'I have been a tomboy pretty much all my life and honestly, to put it short, it really sucks sometimes,' wrote Amber, a Californian native who often raps in her group.
While all of her fellow members usually wear a skirt, heels, and dress in performances, Amber tends to like shorts and sneakers.
'I personally believe girls and boys are not limited to one specific look. Beauty comes in all shapes and sizes. We are all different. If we all sang the same melody how can there be harmony? Don't judge someone just because they're different. Hopefully we can all grow to respect each other's differences.'
She has once stated she likes guys who look really cold and rude. However, she still regularly faces questions like whether she goes on dates with lesbians.
Ever since a child, she has been 'judged, avoided, bothered, and cursed at' just for appearing manly.
Luckily for Amber and her fans, malicious words do not appear to hurt the boyish star quite as much now.
'I really like myself, so why am I trying to hide myself?' said Amber about the lyrics she penned for the solo song 'Beautiful' released earlier this year.
'From now on, I will do things my way.'
Below is her full Instagram post: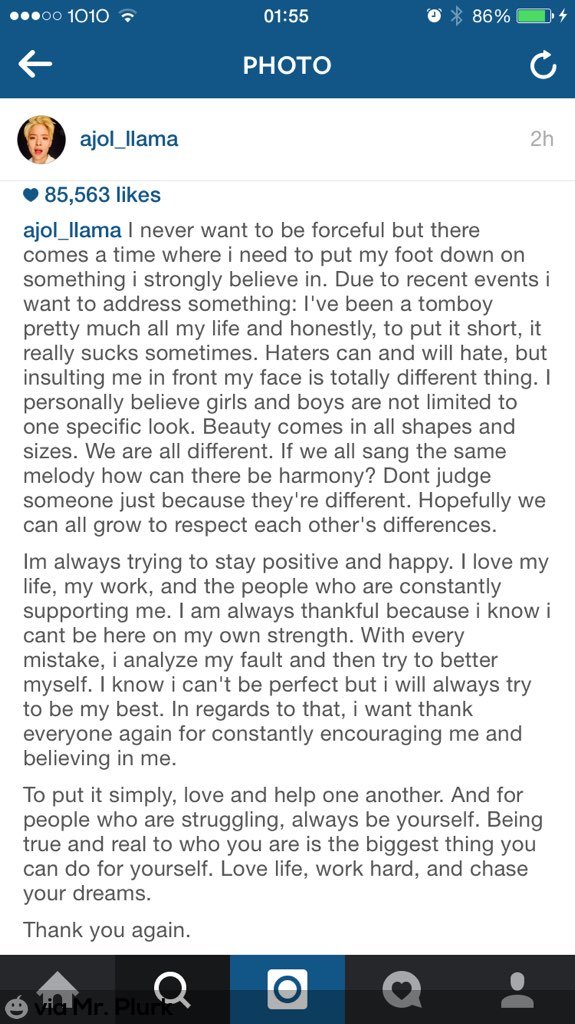 Listen to 'Beautiful' here: