Five things no gay man should put on their dating app profile
….unless they want to risk being rejected by the man of their dreams
© Artofphoto | Dreamstime.com
Emphasizing what you don't want may actually act as a turn-off to other app users
1. Any mention of being 'clean'
No, we're not talking about the fact that you're familiar with soap, but that you equate being HIV negative as 'clean'.
Sending out the impression that people who are HIV positive are 'unclean' is one of the best ways to stigmatize HIV, will carelessly upset any positive guys who are reading your profile, and mark yourself out as an uneducated idiot.
If you really don't want to enter into any sort of relationship with someone who has HIV – despite the fact that you're more likely to become infected from someone who doesn't know their status than someone who's positive, on meds and has an undetectable viral load – you can do it without using the word 'clean'.
2. A heavily-disguised photo
OK, so everyone wants to see a face photo but you don't want to reveal yourself. Instead, you think you'll be clever and post a photo wearing a hat and Jackie Onassis shades.
'Then I can't be criticized for not posting a photo, right?'
Wrong. There is a reason why people want to see a face shot: they want to see what you look like. Going to great lengths to disguise your appearance just frustrates other users.
If you really don't want to post a face shot, most people appreciate including one in your first private message.
Posting a close-up photo of your nipple also doesn't count as a face shot.
3. No black/asians/arabs/whites/whatever
'But it's just my preference!' I hear you cry.
OK, so you have a type and you don't want people other than your type contacting you, but here's the thing about 'types; they can change.
No, honestly.
Just because you've never met someone of a certain color/ethnicity that you wanted to have sex with, doesn't mean that you never will. You're limiting yourself – and if you're looking for love – or sex – you never want to limit your options. Trust me.
Secondly, if you've never been on the receiving end of one of these 'don't contact me because of the color of you skin' statements (which is basically what you're saying), you might be unaware quite how crushing they can be, which brings us to…
4. 'No fats, no femmes'
Again, you may say it's your preference, but to someone reading these words, it can be a devastating blow to their self-esteem.
Not only are you reinforcing binary gender stereotypes (who are you to say how a man should behave?) and body-shaming guys who are probably already self-conscious about their weight, but you're projecting yourself as dismissive and bitchy queen. And honey, that's never a good look.
On a related side-note, if you're no sure how to politely express disinterest, you may be interested in a poll we conducted. We asked people how they would like someone to respond if they sent them an online compliment and the receiver wasn't interested.
At the time of writing, 55% said a simple 'thanks' and nothing more was enough for them to get the message.
Approximately 18% said they actually preferred to receive no reply or be blocked so that they didn't waste their time engaging in pointless chit-chat. The rest said that they hoped that an online compliment would still lead to conversation in case a friendship was to develop.
In short, there's no way to please everyone, but just saying 'thanks' and not engaging in further conversation is recognized by most guys as 'This person's not really interested.'
5. Your age… minus a few years
In other words, don't lie about your age. In fact, don't tell lies, period. If you fear being judged on your age, by all means omit it from your dating app profile. Deciding to lie instead can a) Backfire if the man of your dreams actually has a thing for older men, and b) Might lead to an awkward conversation further down the line if you meet someone, hit it off, and then have to reveal at a later date that you lied.
P.S. Not mentioning your age but using a photo that was taken many years ago also counts as a form of online dishonesty. Sorry.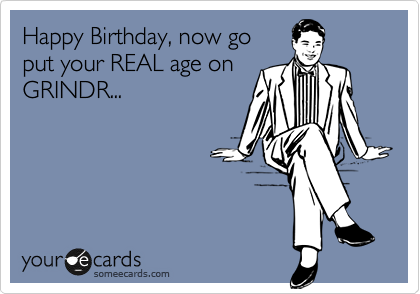 So what should you put on your dating app profile?
Be honest; project a positive outlook rather than being negative or homophobic against your fellow gay man; and be prepared to reveal yourself.
Main image: © Artofphoto | Dreamstime.com
Got a news tip? Want to share your story? Email us .
HAVE YOUR SAY