Football charity Pride In Football is to meet with the Football Association (FA) to discuss plans for keeping LGBTI fans 'safe' during the 2022 Qatar World Cup.
News broke at the weekend of a statement that had been sent to the FA by Pride, which represents all national LGBTI supporters groups across the UK.
The football charity originally blasted the Association for meeting bosses in Qatar, which is one of the worst violators of LGBTI rights in the world.
After the organisation emailed their concerns, the charity's chair, Di Cunningham told Gay Star News exclusively that their plea was recognised and that they were due to meet FA chair Greg Clarke in the coming week.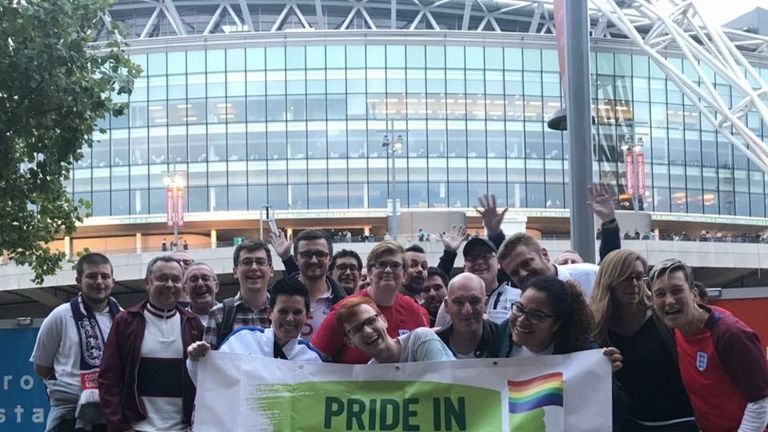 English FA will ask Qatar FA to work on ensuring all fans are welcome
Speaking to GSN, Cunningham told of how FIFA was clearly aware of the 'bad decision' made by the disgraced former president, Sepp Blatter.
'Many of us feel disenfranchised by FIFA's host selections for the next two world cups, and those of us planning to travel to Russia to support our team saw the gesture as a clear signal to the Federation's authorities,' Cunningham said.
But Cunningham said the organisation is happy that the English FA  wish to co-operate in ensuring all fans are welcome.
An opportunity to 

actively use football as a tool for change
'The new Qatari venture from the English FA is quite different – it's self-generated not imposed. 
'So we were initially concerned that the FA  were in dialogue with one of the most repressive regimes for LGBT+  
people in the world and asked them for more information – the manner of the agreement and the potential impact on LGBT+ fans,' she continued.
'We've since seen this statement: "The Football Association will raise human rights and homophobia issues with the Qatar FA after signing a memorandum of  understanding."'  
'If the partnership involves knowledge sharing to this degree then together we'll have an opportunity for influence and to actively use football as a tool for change.
'We've been asked to meet with Greg Clarke this week and look forward to finding out more,' she told GSN. 
The Pride in Football network of LGBT+ fan groups includes 40 supporters' groups since forming in 2014.
The full current list of groups can be found here.