We have all been there. As much as dating apps are now among the most common ways to meet someone, getting to speak with a decent human being is hard, let alone finding one who is remotely interesting. Coming up with something which is not a stale, totally non-witty opening line is possibly even harder.
That's where this little experiment comes from. Trying to talk to girls on dating apps using exclusively The L Word quotes might sound nonsensical, and sometimes it was indeed. Nonetheless, half of these awkward conversations cracked me up, unlike too many of the boring ones I've had so far on dating apps.
The other half was truly cringe-worthy and made me sound like an obnoxious, overly sentimental, overthinking woman, but that's another story.
The L Word in the age of dating apps
For those not familiar with the show, The L Word portrayed the lives of a group of lesbian and bisexual women in LA. It ended in 2009 after six seasons and, while it left viewers with lots of questions (first and foremost: who killed Jenny?), it is safe to say it helped shape a generation of girls who love girls. For better or for worse.
The series was certainly controversial in some regards. It addressed sexual abuse, trans rights and bisexuality in the most confusing ways. It is still not clear whether it was just lazy storytelling or the reflection of much bigger issues – particularly biphobia and transphobia – which didn't feel problematic at the time but actually were. Many are wondering if the show's reboot, which is currently in development at Showtime, will make up for the errors of its predecessor.
One thing is sure: Bumble and Wapa weren't even a thing when The L Word aired.
At first, it got weird
Talking exclusively through quotes from the show made me sound like a polarized hybrid halfway through womanizer Shane (Katherine Moennig) and narcissistic Jenny (Mia Kirschner). Definitely not the kind of girl anyone in their right mind wants to date.
Unsurprisingly, some girls were confused, irritated even, by my borrowed-from-TV conversational skills. I don't blame them.
Others, however, played along with the nonsense.
This other queen was especially cheeky.
One even channeled her inner Shane.
The resemblance to this scene is uncanny.
And then it got even weirder
A few were still interested in my ramblings enough to want to meet me.
And here's my absolute favorite.
And the winner is…
Just one realized what was going on, though.
You might think that this was an easy win since I introduced myself as one of the main characters, Shane's DJ girlfriend Carmen (Sarah Shahi).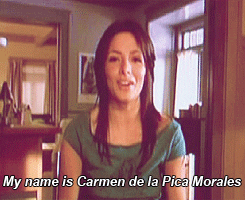 But some of the other girls weren't that bright.
Finally, one made me blow up my cover.
Perhaps using quotes from the divine Bree Van de Kamp might bring better results. I should probably give it a try next time.