Eurovision favorite Duncan Laurence has come out as bisexual during a press conference.
The Netherlands' entry is among the bookies' favorites with his ballad Arcade. The 25-year-old attended a press conference on 17 May when he decided to take a stand and speak up about his sexuality.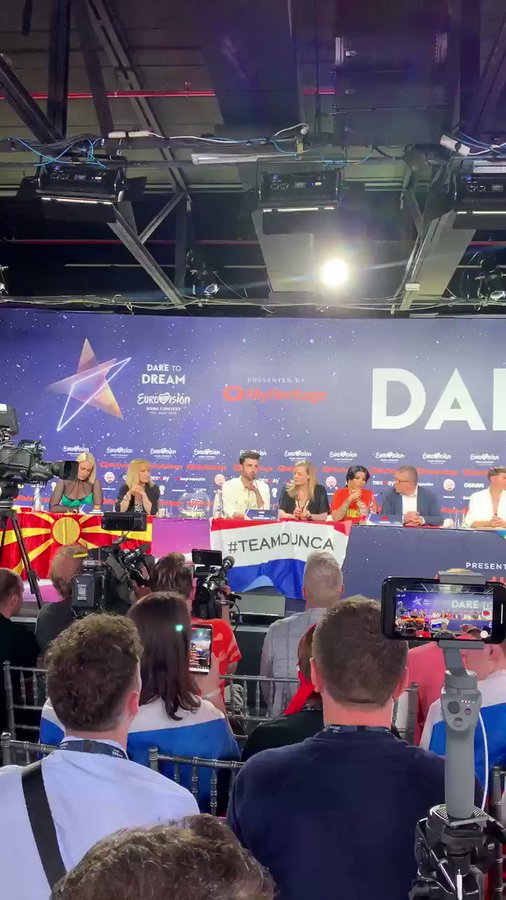 'I am more than just an artist'
When asked by a journalist what qualifying for the final meant to him, Duncan said: 'What it means to me personally is – before this all started, I was a songwriter who wrote songs from his bedroom and this chance means to me that I can show myself as an artist, but also as a human being, I stand for things.'
Then he said: 'I am more than just an artist, I am a person, I am a living being, I'm bisexual, I'm a musician, I stand for things. And I'm proud that I get the chance to show what I am, who I am.'
This year's Eurovision
This is the first time Laurence, who reportedly has a boyfriend, has spoken about his bisexuality publicly. As he answers the question, a member of his team can be seen smiling.
This sweet moment follows a Belarus TV host coming under fire for comments he made while commentating Eurovision.
During the semi-final on Tuesday (14 May), the camera cut to couples in the audience, encouraging them to kiss.
But when it cut to a same-sex couple, Yavhen Perlin commented: 'Oh, my goodness! Maybe we'd better not watch!'
Many have also called to boycott the music contest, whose final will be disputed today (18 May) in Tel Aviv, over Israel's treatment of Palestinians.
See also
Gay comedian Tom Ballard calls for Eurovision boycott
Eurovision worker dies after lighting rig accident in Israel
Eurovision aired a gay kiss and people are losing their minds